There seems to be a popular misconception of men that I'd HOPE to put to rest. Hell, there are MANY that both sexes have about each other but, due to time and limited blogging space (and the fact that most of y'alls asses get tired after reading a paragraph and a half), I'll try not to get into all of them. There are so many, I doubt that I will anyway.
I'll just get to the most popular one. See this dude right here?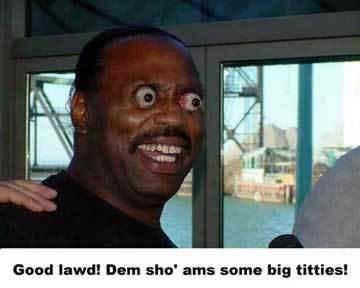 That's most men when we see a set a titties that we either like or that are just huge in a delicious way. Let's be honest, if you have a dick, chances are, you will be attracted to Titties and ass. So, what's the big deal with a woman getting MAD at a dude who stares at them? I always hear about women complaining about how they'd WISH men would look at her in her FACE and not her titties when they have a conversation. It's a popular misconception that if men only focus on a woman's body in a conversation, that's all we'd want you for if a woman was to give us a chance at letting us in her world. Well...have you ever considered the fact that you might have a dreamboat body and a ship wrecked face? Well, in SOME instances, that's not the case, but in a LOT that is the case. Anyway, I'm just gonna be honest with ya, Ladies. If you have some nice titties and a nice ass, and if I EVER see any of you in the street, I'm gonna look...HARD (But with me, you won't know I'm looking because I'm slick wit it). I'll stare at em' until my fuckin' eye balls fall out. It's no different than a woman talking to a dude with muscles and day dreaming about him being naked. Now, Ladies, I see many of your "Nigga please" faces a mile away. Now, you can't TELL me if this dude walked up to you in the street and started talking to you
you'd listen...much. SEE? SOME OF Y'ALL AIN'T EVEN MAKE IT PAST THOSE PICTURES WITHOUT HAVING TO WIPE OFF YOUR SCREEN!! Some of y'all got that "NOT ME" look on y'alls faces and lemme just say...Y'ALLS LYIN'!!! TELL THE TRUTH AND SHAME THE DEVIL!!
Now, I CAN understand where you're coming from because some dudes just go too damn far. Hell, they'll drool over them shits in mid-conversation and it's not professional and it makes you look LOONY...kinda like SOME of y'all females would do over....HIM, perhaps?


There's a certain slickness you gotta have, as stated before. Hell, I can have a whole conversation with you and look at some titties and you'd NEVER know it. How, you might ask? That's for me to know and you to die trying to figure out. Anyway, just know this. Lust and horniness are embedded into the human DNA and will BE there until we're all extinct. Some just have extra freshness and they can't control it. Some CAN but they just don't WANT to. But why get mad? TAKE IT AS A COMPLIMENT!! THEY THINK YOU SEXY!! Hell, you don't hear no dudes complainin about females having conversations with our dicks. GET OVER IT!! PUT ON YO' BIG GIRL PANTIES (If you WEAR panties) and SUCK IT UP!
and I'm tide.